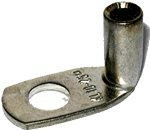 GRME acknowlege the reduced spaces that are continuing to hamper the neat installation of battery cables, starter cables and alternator connections.
Available in both 45 deg and 90 deg versions and covering a wide range of cable sizes, the new improved line of crimp eyelets has been developed to make your life easier.
Contact us for pricing.