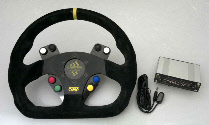 New from CARTEK is an innovative system that allows quick and easy fitment of pushbutton controls to detachable racing steering wheels. Not only is this system wireless, with no cables linking the steering wheel to the dashboard, but the 8 channel receiver is fully configurable. Selectable functions including Momentary, Latching and Flashing actions.
Each channel incorporates a 10A relay with access to both contacts and can be used to control devices such as:

Electronic gear shift, Pit lane speed limiter, Front lights, Indicators, Pit-car radio, Windscreen blower, Display menus, Rain light, Drinks pump and more!