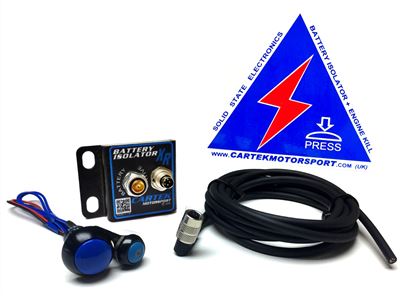 CARTEK Battery Isolator XR (Kit)
$596.75 ea
THE CARTEK SOLID STATE BATTERY ISOLATORS ARE VERY SMALL AND HIGHLY RELIABLE ALTERNATIVES TO THE TRADITIONAL MECHANICAL MASTER SWITCH AND HAVE BEEN DESIGNED TO OVERCOME ALL OF THE PROBLEMS AND RESTRICTIONS ASSOCIATED WITH MECHANICAL AND ELECTRO/MECHANICAL SAFETY CUT-OUTS.
WHEN FITTED TO A RACE CAR, THE CARTEK SOLID STATE BATTERY ISOLATOR SIMULTANEOUSLY ISOLATES THE BATTERY AND KILLS THE ENGINE IMMEDIATELY WHEN TRIGGERED IN ACCORDANCE WITH FIA SAFETY REGULATIONS.
ALL CARTEK BATTERY ISOLATORS ARE DESIGNED TO BE CHASSIS MOUNTED CLOSE TO THE BATTERY WHICH ALLOWS THE HEAVY CURRENT POWER CABLES TO BE KEPT AS SHORT AS POSSIBLE. TYPICAL INSTALLATION REQUIRES ONE EXTERNAL KILL BUTTON AND JUST ONE INTERNAL ON-OFF SWITCH WHICH ARE ALL INTERCONNECTED USING THIN, LIGHTWEIGHT WIRING. HOWEVER, THE FLEXIBILITY OF THIS SYSTEM ALSO ALLOWS ADDITIONAL KILL BUTTON/DEVICES TO BE INCORPORATED FOR INCREASED SAFETY. MICROPROCESSOR CONTROLLED INCORPORATING FALSO TRIGGER DETECTION, INTERNAL TEMPERATURE MONITORING AND SHORT CIRCUIT PROTECTION OFFER UNPRECEDENTED RELIABILITY AND SAFETY.
Sorry, this product is temporarily unavailable