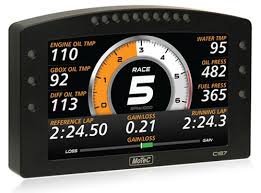 MoTeC C187 - COLOUR DISPLAY LOGGER (Enabled)
$5,446.98 ea
Units only available for purchase to Victorian buyers.
The C187 is MoTeC's latest professional level Display Logger featuring an impressively generous, full colour screen. It comes standard with 250 MB internal logging memory (can be upgraded to 500 MB) and MoTeC's world-renowned i2 data analysis software. A Pro option is available for expert analysis.
The vivid 178mm screen (approx 7") is high resolution, ultra bright and anti-reflective for easy reading in direct sunlight. Choose from numerous selectable layouts and configure the channels, labels and colours to suit. Or, opt for the new Display Creator upgrade and treat your screen as a blank canvas - design your own unique graphics, incorporate images, logos and custom icons. Create multiple pages to suit different scenarios, optimising the screen space for your application.
An array of 16 full colour LEDs is integrated into the unit for use as shift lights, warning lights or other driver alerts. The colour, function and intensity of each LED is programmable, allowing users to develop their own unique strategies and sequences.