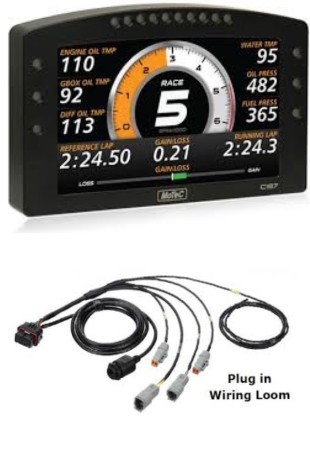 MoTeC C127 RACE LOGGING KIT (Enabled + 128M Log Incl)
$4,156.30 ea
Units only available for purchase to Victorian buyers.
The C127 Race Logging Kit is a cost-effective, plug-in display and data logging solution based on our new full colour C127 Display Logger. Offering professional level features at a club level price, the kit is quick and easy to connect, requiring no previous experience with MoTeC systems. Each component simply plugs into the professionally wired and terminated loom, which comes complete with a handy plug-in power adaptor. The kit is expandable and can be adapted to suit various applications.
The C127 Race Logging Kit includes:
C127 Display Logger

10 Hz GPS

Two buttons, pre-wired

Professional quality plug-in loom, terminated and labelled, with plug-in power adaptor

Ethernet Cable
C127 Race Logging Kit Options - see Accessories for more details:
The C127 will connect directly to the factory ECU of many late model vehicles using the optional plug-in OBD-II adaptor, providing access to important engine data.

Customers with MoTeC ECUs can connect to the C127 with our plug-in CAN or RS232 adaptors. Some other aftermarket ECUs may also connect with these looms.

Logging can be added to the C127 at any time, allowing for comprehensive data analysis in MoTeC's i2 software. This option is conveniently enabled using a password activation.

For those wishing to expand their C127 Race Kit further, an I/O upgrade will activate additional inputs and outputs for greater functionality. A pre-wired, terminated I/O Loom is available, or customers can use their own.
NOTE: A C127 Race Display Kit is also available (non logging, but can be upgraded)
Sorry, this product is temporarily unavailable