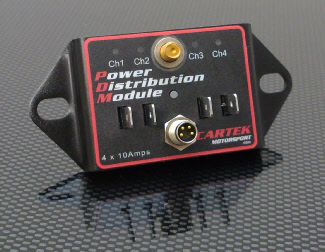 New from CARTEK is a 4 channel Power Distribution Module which has been designed to replace the functions of fuses, circuit breakers and relays in one small, fully electronic unit.
This Power Distribution Module is ideal for race cars and motorcycles which have minimal onboard electrical circuits but still require rugged and reliable protection and control.
Size: 90mm X 42mm. Weight: 110g.
Simple connections and no configuration procedures makes this system very easy use and quick to install.
Outputs can be used to control power to various devices such as ECU, fuel pumps, instrumentation, lighting, starter solenoid, radiator fan, etc.
Visual over-current and short-circuit indication makes fault finding simple.
Can be supplied on itís own or as a kit with LED pushbutton switches.