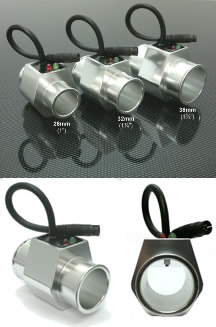 As most race and rally cars have water cooled engines with forward facing radiators then these radiators are always prone to damage and punctures.

It is quite common for a radiator to become damaged during an event, either from contact with other vehicles or from stones and debris being thrown up from cars ahead. Unfortunately there is little that can be done to prevent this problem, as suitable grilles in front of the radiator will effect air flow thereby reducing the radiator's cooling efficiency.

However, CARTEK can now offer drivers an early warning system should their engine cooling system develop a leak, whether it be from a punctured radiator, loose hose or gasket failure before overheating and engine damage occurs.

The Coolant Level Alarm from CARTEK consists of an aluminium sensor tube which is simply fitted in-line with the engine's radiator hose. The coolant detection electronics are built into this sensor with a 3-pin plug for power input and an alarm signal output.

This alarm output can be used to alert the driver in a variety of ways including activating a dashboard LED indicator, 12v buzzer or it can be used to provide the car's ECU or driver display with a fault detection input signal.

The sensor also incorporates Red and Green LEDs which offers mechanics a continuous indication of the coolant status. This is especially useful for diagnosing an overheating problem or checking the coolant has been filled correctly after an engine change.